"One sad day after polio struck and I was told of continuing paralysis - arms. hands.
(?) therapist who had worked with President Roosevelt who also had paralysis of legs from adult polio-said probably arms paralyzed worse because of inhibiting personal action - hair, eating, dressing, and my thought of writing gone!
Time for sadness
Time for Faith, Determination
Time to remember Responsibility
Kids - 2 lovely children"
Nana had polio when my mom and uncle were quite young. My mom remembers seeing her in an
iron lung
when she was little. Not only did Nana survive, but beat many odds by being able to walk and made pretty darn good use of her hand. She couldn't lift the right one up very high, but would use her left one to move it into place. She was a spunky old gal and we were quite close. We used to talk on the phone every Sunday morning when I was in college. As an older adult, she never went to the doctor and was on no medication. When it came time for her to go, at 88, the doctors were amazed. I remember seeing her in the hospital, she had always worn a wig, but she had beautiful long white hair. She died on a weekend that I was in Portland trying out for the Blazer dancers (and hadn't told anyone) and my mom was with students at a dance competition in NYC. I think that we were all so spiritually connected that having us spread out across the country with her in the middle, she simply floated away from the body that had held her back and joined mom and me in our adventures.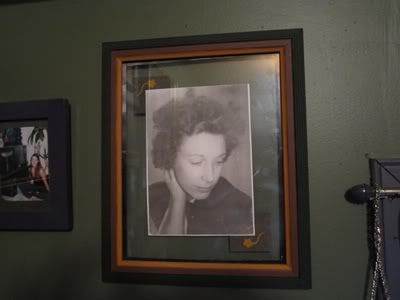 the front of the picture she had written on. We don't know who's tiny hand that is, but I suspect it to be my mom's.