I had 2 guys (OK, one was John but that still counts) comment on this outfit, one saying I looked "smart" and the other saying I looked "professional" so I decided it should be this week's outfit du jour. I do admit that I can rock a pair of pants. These are a boyish cut, which I love. My shirt was a good fitting, long waisted, short sleeve with kind of a cool neckline (not shown because of my sweater) and I added old rhinestone earrings and a necklace, a big black and white ring, awesome snakeskin shoes and that was it! This was our weather almost all week.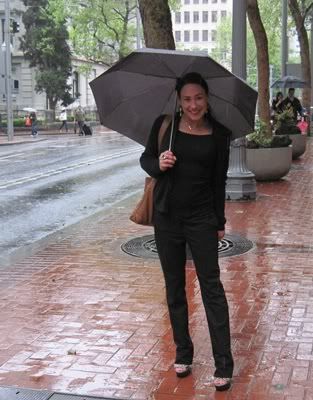 Totally unrelated to Fashion Friday is the adorable picture of Toki, who helped me pack for our weekend in the woods, where we will meet up with John's family to hunt
morels
. Here she is in the mushroom box.