You know, I didn't have much hopes for Fashion Friday this week. It started out wet and rainy, and I'm still protesting this by wearing jeans. On Monday, I added my favorite heart necklace (I love John!) and glitter headband. Note the dreary and dark morning behind me. boo.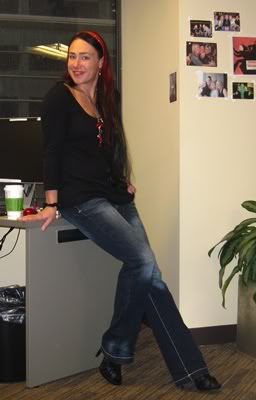 On Tuesday, I hoped for a spot of sun and did a brown and black combo since bright spring color will hopefully soon take over my wardrobe. I added the animal print hat (John said "There's a cat on your head...") and killerly awesome giant necklace. I stood by one of my "flower" patches for color.
On Thursday, the photo is not about me, but my friend Kate. I got to work that day and she informed me that when she got ready that morning, she thought it was a good "Shannon" outfit. Coincidentally, fellow fashionista Sarah (not available for photo) said she was wearing a "Shannon" outfit that day too! Oddly enough, I didn't feel much like myself that day, so I'm glad my friends did it for me.