Last night, we went to go see
dooce
as she was in town doing a reading for her
new book
. I zoomed there after class where lovely Mindy had been waiting for an hour to get us seats in the second row.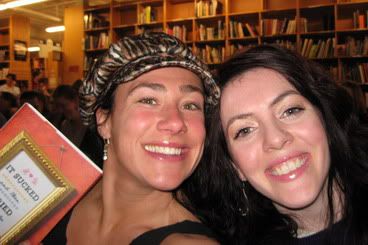 After what seemed like forever as the room filled up so much that they had to shut it off, dooce came in and read from her book. Chosen topics: boobs and sex.
Then we waited in line to get our books signed!!!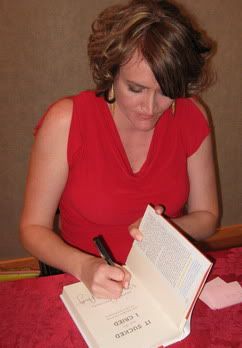 Well, actually Emily and Jennifer waited. Mindy peed, and I had to go ask the lost and found if anyone turned my phone in. In my rush to change from sweaty teaching clothes, I left it in the bathroom. Now, my phone is as old and boring (i mean you can't even play solitaire on it)so I'm hoping it makes it to lost and found so I can go claim it. Something funny is that as he was writing my name and what I lost into the lost and found book, he asked "what's your phone number so I can call you if it turns up?" but i digress.. It was a fun night and I read dooce every day, now I have a whole book of her!
Famous blogger
dooce
with much shorter, non-famous bloggers
vita.min
,
Strippy Longstocking
,
BettyCrockerAss
, and
emulls