I have lots to write about after the last two weeks, but to set the stage, its best that you understand the journey....
We packed our saddlebags and hopped on the bike and left Portland early one morning in the rain with our fingers crossed that sunny weather would emerge. We did outride the rain and got some muggy sun that afternoon. Unfortunately, that quickly turned into storms as we sped across OR, hoping to make it to Boise before it hit. We parked at Tonya and Brian's ten minutes before the downpour started. phew. The next morning we took off for Jackson, WY and spent the entire day being blown across the state to the extent that we now refer to Idaho as Ida-blow. We weren't big fans of Jackson, but it was the perfect place to wake up and head through Yellowstone. It was a frigid, beautiful morning as we made our way through the park, stopping for hot chocolate and pictures and when necessary, road construction.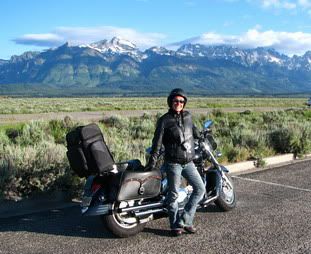 We rode out of the park and up to Bozeman, where we stayed with Brady and he joined us the next morning for the ride to home in Fairview, MT (or ND, depending on which side of the state line you live on.. I am a North Dakotan, or as we are known in grade school, an East-Sider).
In NoDak, we stayed with my parents and slept in the horse trailer. While I love to say that to see the looks on people's faces, its pretty cush digs :) We took part in the annual Old Timer's festival, my mom and I rode horse in the parade, Dad pulled his 50 year class reunion in the Belgian drawn carriage with a trailer behind it (wait til I post those pics!). We went to the river to hang with friends and family and spend some evenings with my brothers and their families. It was wonderful. Once it was time to head back west, we left NoDak and heading straight down (and I mean straight) to SoDak.
We meandered through the Black Hills and stayed in Custer, where the only room left had a giant jacuzzi tub. It was sweet. The next day, we took a road we had been dying to take on the bike, past Devil's Tower.
We had 10 hours on the bike that day and were very tired when we landed in Big Timber, MT. This adorable little town had a drunk hotel owner who happily gave us a deal and handed us each a beer with our room key. We drank those beers and headed to two watering holes and had a lovely night with the locals. The next morning, we took off to Missoula to pick up the Lolo Pass through Idaho and stopped in Orofino, ID. This was another cute little town and we had super time in their bar and after following the Clearwater river all across the state, wandered along its side (or through it, in John's case) that evening.
I went for a nice jog the next morning and met up with John for breakfast and after so many long days, we needed a bit of a break and didn't want to try to make it back home before we were ready. So we took a short (4-ish hours) ride down to our home away from home, Pendleton. We love it there and went to our favorite places and ran into a bunch of our friends from there for a hilarious and awesome night.
Still not ready to come home, we decided to spend one more day in our favorite town and spend it swimming at their fabulous pool. So fabulous that it deserves its own post :) Finally, and a little sadly, we made our way back to Portland. This was the most amazing journey and we had an almost indescribable good time. Also, after 3000 miles, its fair to say that we are officially bikers.