One drunken night, we decided that it would be fun to volunteer this Thanksgiving and it was such a good idea that the next day, we still wanted to do it! Jen found a place that was accepting volunteers (most were already maxed out) and we made our plans to drive to Vancouver at 6:30 on Thanksgiving morning. Once we arrived and got our mostly mis-spelled name tags, we got our assignments. John and Jen were assigned to the clothes table, where they were to make sure that people didn't take too much and if needed, assist them in finding the most fashionable warm item for their needs. A couple weeks ago, we had a donation happy hour where we took donations of warm clothes, so many of the items available were from the big box of donatables we had shown up with. Other Jen and I got to witness some of this for our first post at the dessert table, where we watched one guy try on and love the new coat that he picked from our pile.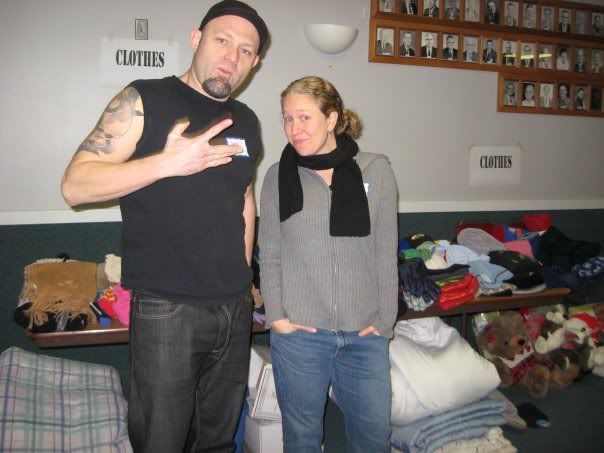 Our glorious, easy job of managing the dessert table didn't last long and we were banished to the basement to strip the turkeys of their meat. This was gross. Not all the turkeys were completely done and so we had to try to get what we could without tainting the good meat with parts that may or may not have been completely cooked. The turkey stripping was a long and messy job. It will be a while before any one of the 4 of us wants to eat it again.
Also, the people running the event weren't super nice to us once they got us in the basement. There were a lot of things that we would have done differenlty if we had organized such an event and this was definitely a learning experience. We were disturbed by some of the things we witnessed. Oddly enough, the disturbing things were not associated with the homeless and less fortunate who came to the meal, they all seemed happy and fairly together. However, the people that put together the event seemed to be quick to look down and talk down to others and even quicker to pat themselves on the back for their generosity. We were a little turned off. We were still super glad that we did it. It was an interesting look at a lot of different types of people and on top of that, we have a ton of new jokes from our shared experiences of the day. After our volunteer shift, we came back to Portland and jogged around the waterfront and then landed in a warm, cozy bar where we had delish spanish coffees and hot toddies and snacks. Then we headed back to the Jens' house and John cooked us delicious quesadillas and we had more hot toddies and played games. We also had a drawing contest to commemorate our respective memories of the morning of volunteering.... Clearly, it was a 4 way tie. (warning: you may not find these to be politically correct. If you'd like to hear more of the stories associated with the drawings to put them in context, I would be happy to share them)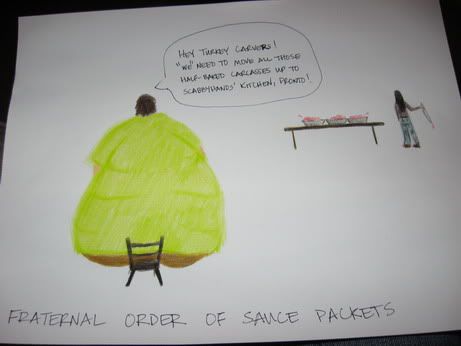 The whole day was perfect. We have lovely friends and are grateful for everything in our very full, and I feel, very balanced, life. Mostly, as you might guess, I'm thankful that I get to do everything with this guy.