We've spent a lot of time in Pendleton this summer and every weekend has been a blast. This one was no different. Have you ever driven through Pendleton? These are the cows that you see from the freeway:
John talking to one of the cowboys:
We came to Pendleton to pick up a pair of boots that I ordered a few weeks ago. I fell in love with them in the window, but they didn't have any my size... "Haven't had to get too many small sizes lately.. The girls 'round here are havin' 10 and 11 size feet" (my grandma would've said they were poorly bred) Well, we stopped to try the boots on and then went to shop for a few hours and then go pick them up. John got a new belt buckle: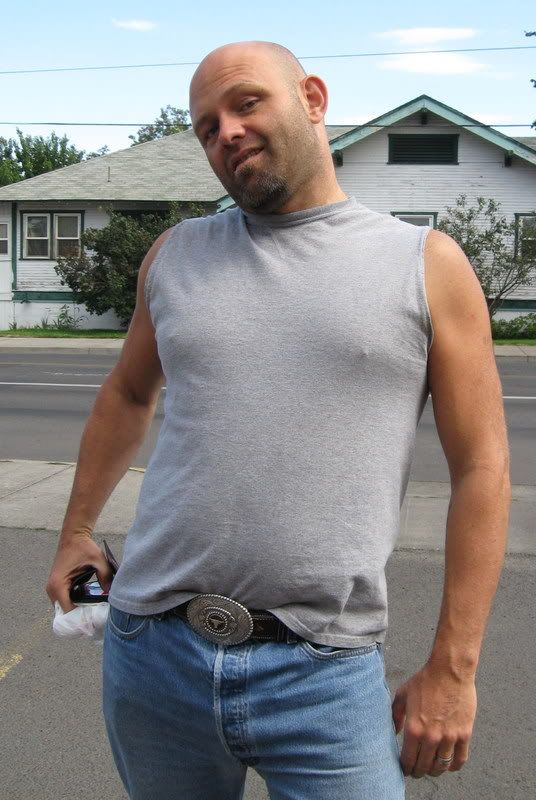 In our travels, we passed a cute little store with an outside table with a sign "Belts $1.00." I dare any woman to ever walk by that sign. I found three belts. When we went in to pay, we found ourselves in the coolest little western re-sale store ever. I wound up with pink cowgirl boots to match the new belt:
As we were having lunch, (lunch was a roast beef sandwich with sprouts and nice hot horseradish) John asks me "are those press one nails on the buckle?" We investigated closely and they are not. However, this belt will forever be know as the Lee press-on belt.
Parched from shopping, we headed to The Rainbow, a fantastic little bar that has been in business in the same location for 125 years. Its one of the best bars we've ever been to:
And every time I wear these bad boys (um, which is going to be about every day), I will be reminded of one of the best summers that we've ever had.