When I was focusing on getting the perfect new job and thinking about what it would mean to every aspect of my life, one of the things I was looking forward to was wearing cute office outfits. I haven't worked in a year and prior to that, I'd spent a year and a half working from home. Most of my jobs before that were in small companies with business casual dress codes that focused on casual. But, I did have a solid wardrobe of work friendly basics (because I have a solid wardrobe of everything, have you seen my closets?) Anyway, in order to hold myself accountable and to help me stay inspired, one new job goal was to start Fashion Friday here on the old bloggy blog. (I also wanted to do it to help hone the self portrait/tripod photo skills) I'm not breaking any new ground here, there are a ton of fashion bloggers. and I think they're cool. and I want to be cool too. and I have good outfits that I think can only get better if I find a way to look at them differently (as I've already discovered). Plus, everyone seems to love Wordless Wednesday, so I think trying another theme day is going to be ok with my millions or readers. or 19, based on the loyal followers section. It will be different each Friday, but it will be based on something I wore during the week, failure or success. So here goes. Fashion Friday 1.0.
This Friday I am going to look at two outfits. I love lots of things about this....It's a tan corduroy skirt, brown tights, brown boots (new job shopping score), green sweater, green "socks", green jewelery, and leopard scarf. I wore one of my favorite coats, my mom's old brown leather and suede jacket to complete my ensemble. Sorry the pic doesn't do the colors justice, I will learn the photo skills and lighting as I go. Early morning with no tripod and a small fear of potentially embarrassing myself in front of new co-workers who might walk by all contributed to the scenario.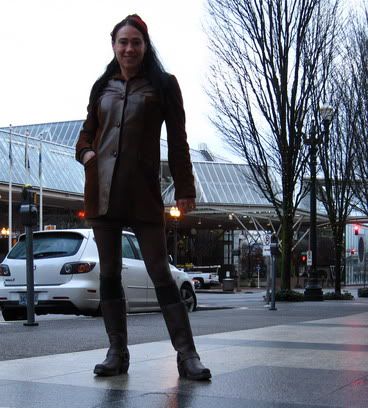 I like adding the scarf to the top as I tend to have a small noggin and this helps to add body. Also, I love this necklace. It's an old one my mom gave me that was put together weirdly. I took it apart, restrung it, and kept out a couple smaller pieces so I could craft up the matching earrings (which do not show up in the pic, lame).
Also crafted? my "socks." I knew that I wanted to pull the green into the bottom half of my outfit, but couldn't find green knee socks. What I did find was a green long sleeve shirt that I didn't really like in my closet. Two scissor chops later, viola! green socks. Also, the shirt is cuter with short sleeves :)
Later in the week I busted out one of my fave color combos, red and black. I love the way this sweater fits, but it wrinkles immediately when I sit down. This is another advantage to taking outfit pics. I can actually see that it happens. I love this skirt. It fits cute and the ruffled bottom is super fun. I also love these boots, the second pair in my new job super shopping score bag.
I think the look is completed with the accessories. I love big earrings when my hair is up and the splash of color ties it all together. The red head band used to be a hem on a red dress that I shortened last summer.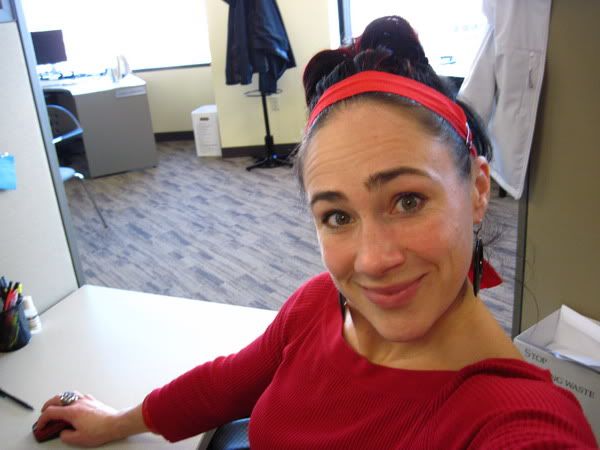 Not all Fashion Friday posts will be this long, but they will probably all include stories of wardrobe pieces with unique origins :)