In the interest of celebrating the beginning of Good Luck 2010, we took off on Friday to spend a couple nights at the coast. The good signs of fun started right away when John drove up in our rental car, a sporty, 2 door Nissan Altima. Last time we went to the coast, we ended up with a PT cruiser, complete with wood paneling. This time, we didn't have to walk around the block before getting back into our car for fear of being seen with it. The Altima was cool and fast and fun. The weather was amazing. As soon as we saw ocean, we started to get excited to reach our destination, The Rogue Pub in Newport. When we walked in, we saddled up to the bar, ordered some Dead Guys, and made friends with Awesome Bartender, Chris.
After a couple beers and some calamari, we headed down to our usual town for coastal sleeping, Yachats. We scored a pretty good room and spent some time on the ocean and then went into town for a dinner from the appetizer menu and the wine bar and then a nightcap at the Adobe before heading back to fall asleep to the sound of waves on the shore. Morning brought a oceanside jog and one of JJ's goals, a dip in the ocean (for him, not me, are you kidding?) Then it was time to pack up, head back north to Depoe Bay for a quick breakfast of clam chowder and a Whale Watching trip!! Hooray!
We saw some whale action, but seriously, the boat ride is enough to be worth the trip. I can't wait to do it again. Weary from our time at sea, it was back to Newport and to Rogue, where we ended up meeting some awesome new friends, as we tend to do. A little more of Yachats night life, a little more time on the beach and back home on Sunday, rested, happy and optimistic about this next stretch of life.
Here's JJ taunting the sea....
It responds....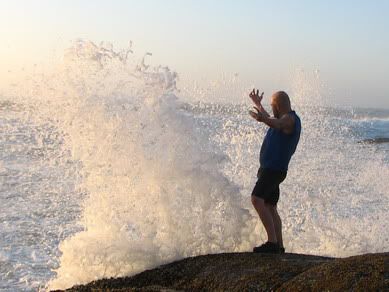 Is that all you've got?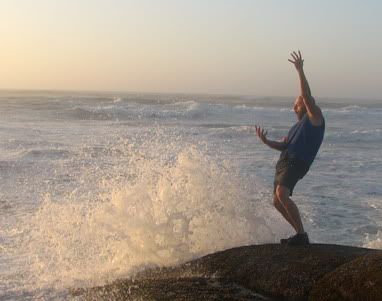 nope.