We decided to commemorate this weekend with a celebration to make up for the despair and fear we had last year at this time. We used the almighty power of
Priceline
to score ourselves a schwanky hotel room downtown for cheap and with no other plan than to get dressed up and have a good time, took off. After a normal Saturday stop for pizza and beer, we had a glass of
wine
while we waited for our check in time and as usual, we found ourselves in the middle of endless jokes and laughter with Jen (not those Jens, this is another Jen. We know lots of Jens) and Loren. Jen mentioned they had to close early for a private party that night and wait, we were staying downtown? We should come! Turns out that party was a high end lingerie fashion show for the
store next door
. um, score. So we went to check into our hotel room (which turned out to be
AWESOME
) and got ready for dinner. John was faster than me so he waited in the hotel bar while I curled my hair and watched the lights of the city from our little perch.
We had dinner at the City Grill bar (yum) and then headed down to join the party at the wine bar. It looked like this: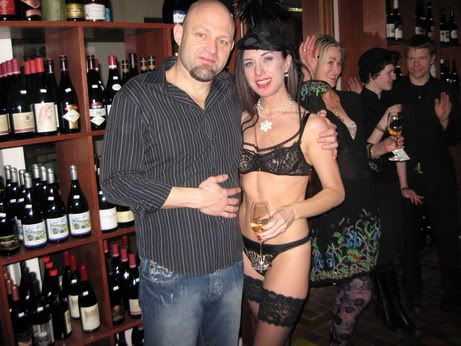 It was such a cool place to have a fashion show and the pieces were phenomenal. You have never seen me move so fast to volunteer to be a part of something (fingers crossed for the next one :)) We had wine and laughed at talked with everyone there and after the models were done, it turned into a dance party (below John is shown demonstrating Jen's signature "punching the ground" move. Patent Pending :))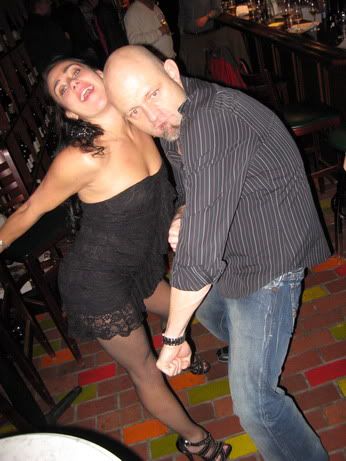 We ended our night with a stop at Roxy for chili fries. perfection.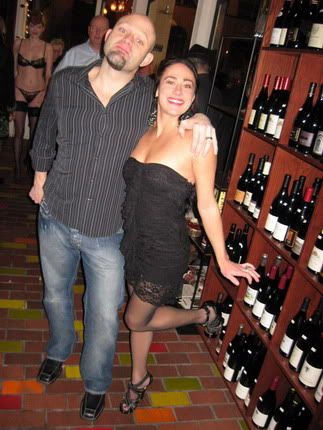 A few hours, and some sleep, later, we went for a morning walk in the frigid air and landed back at Roxy for some eggs and then gathered our stuff and caught the bus back home. Our Sunday rounded out with a walk to the movie store and a neighborhood bar for some snacks and then home to snuggle with the kitty on the couch and watch movies. A celebration weekend indeed.