John's 41st birthday was on Saturday and to celebrate, we planned a motorcycle trip to Pendleton to do all of our favorite Pendleton-inspired activities! We left Friday after work and had a relaxing ride in the sun and landed at our hotel and then hit Hamley's for a light dinner and couple beers..
John on his last night as a 40-year old.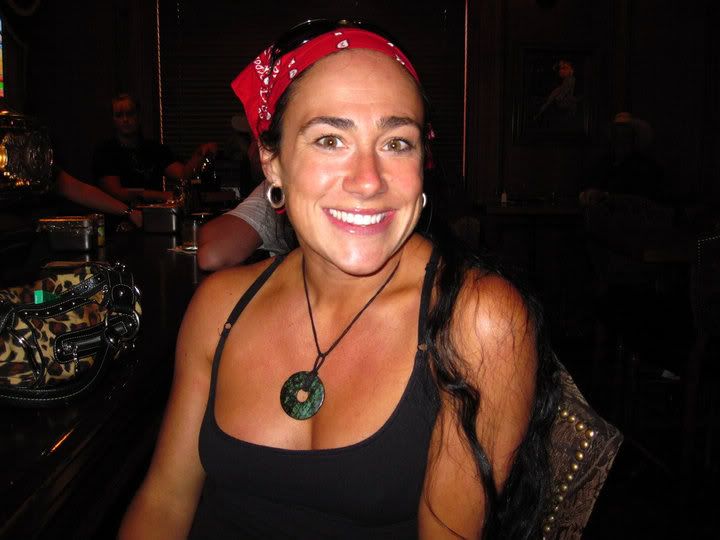 On Saturday (his actual birthday), he had a goal of doing a really good run. (either 4.1 miles or 41 minutes, whichever felt right) As both goals neared, he realized that he had a little more left to give and so we completed the whole path. He's been working really hard on getting back into running and so it was really awesome to conquer those 5 miles. ba-bam! After a giant success there, we went for a quick coffee and apple fritter at Starbucks and came back to our room to change for the day (and he wanted to log in and see how many Facebook "Happy Birthdays" he got :)) and then we went to our favorite lunch place for a couple mid-morning beers that inevitably turn into lunch beers and a sandwich. (we've done this before :))
Then, pool time! John joked that he was having a perfect birthday day fora 7-year old: running around the park and then going to the pool. We pretended everyone there was there for his party.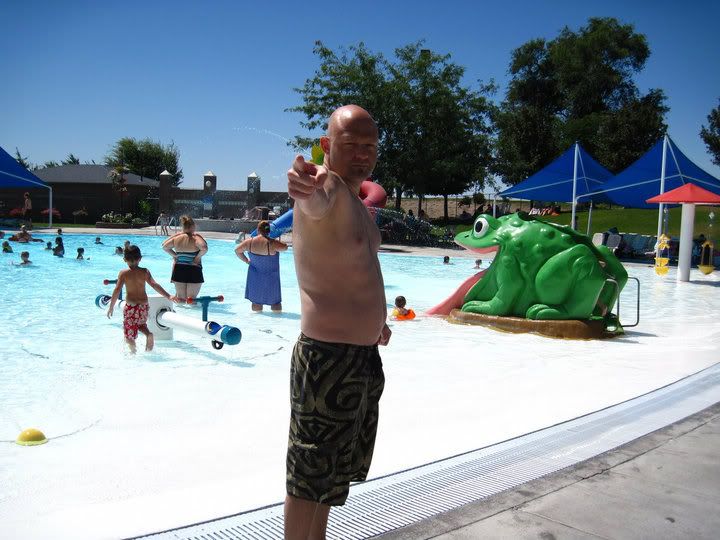 After a few practice descents on the frog, we hit the big slides. It was perfectly hot and there were literally no lines for the slides!! We went down, ran back up and went down again! over and over and over. It was so fun.
After about 20 times, we swam across the big pool and busted out a few dives...
John goes Superman style...
I am a cheerleader.
After swimming, we hopped back on the bike (parked not very legally on the high school steps, but in the shade!) and went for a post-swim drink and then to clean up for dinner.
We were back at Hamley's for dinner and the very nice bartenders had a present for John for his birthday!
After another delightful dinner and being treated just fantastically, we went over to the Rainbow, where the bartenders there had some birthday shots ready for him....
It didn't last much longer after this :) Happily enough, John woke up feeling fine the next morning and we had a perfect ride home where we coasted back to normal life with some more yummy food and a nice bottle of wine.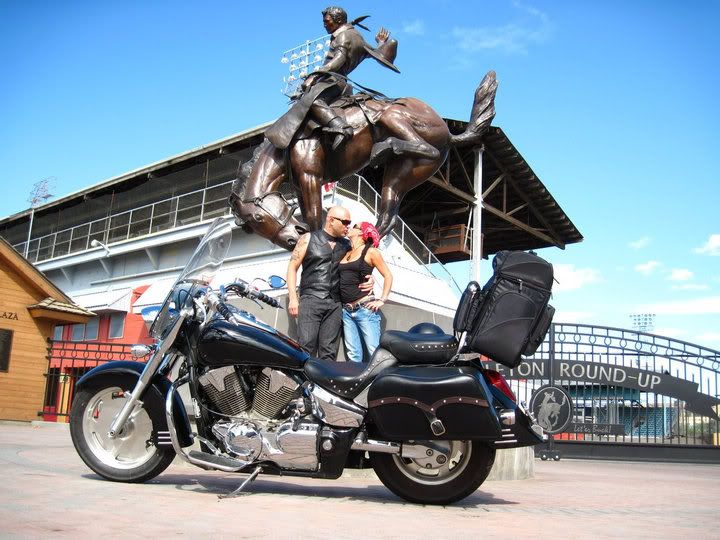 Everything that could have gone right went even better than we could have hoped and we were really treated well by the fine folks in Pendleton. What a great way to start off the year. Forty-fun indeed.