I've been following fun friend Jessica's
new blog
where she and her sister-in-law attempt to re-create tasty snacks assigned as missions from their mother-in-law, who is a chef. In the interest of playing along, and hoping to add a new treat to my repertoire (OK, maybe I can't call my mini cupcakes from a box mix a repertoire), I decided to try to make
macaroons
! I knew right off the bat that I would include chocolate chips in my version and gathered all of my ingredients.
Macaroon is a fun word to say, and husband chanted "macaroon, macaroon, macaroon, I like to make macaroons!" or some variation each time he passed through the kitchen. This was a super easy recipe and a snap to make. I even multi-tasked by drinking a beer while I mixed my ingredients.
One thing I immediately wished I would have done was use mini-chocolate chips instead of regular sized ones. I eagerly awaited them to come out of the oven and give them a try. I had never had a macaroon before so I had no idea what to expect. They were yummy! I wished that I would have cooked them a little less. I cooked them for 19 minutes, but I think 17 would have been better.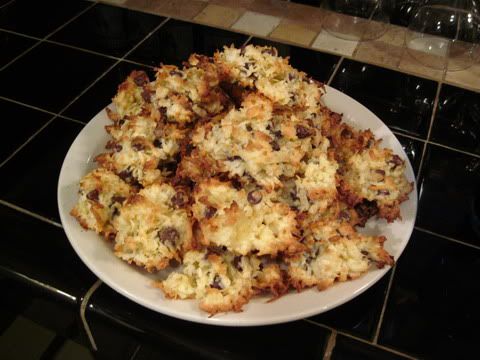 I was all proud of my baking skills and patting myself on the back for my culinary mastery when my lovely friend Sarah showed up with these:
Hers had orange zest in them and were a little moister than mine and they had frosting! Last night I was quite certain that hers were way better but in a sober taste test this morning I've concluded that while her baking skills are superior to mine, the recipes are equal. Although next time I will definitely use the mini chocolate chips. ..and I might also try adding some craisins....
♥PLATE IT, ATE IT, GRADED IT.♥
scale: 0 (not at all) to 5 (very)

Cupboard to table time: 30 minutes for the first batch, 20 for the second

Difficulty: 1
Deliciousness: 4

Impressed Husband factor: 5 (partially for the number of times we got to say "macaroon")

Leftover-friendly: 4

As good as Sarah's? no, but I will try again :)