I am totally inspired by the
3KMtD blog
, or as I refer to it, the MIL blog. The recipes all look delicious and to know that other girls, just like me (read: non-cooks who are busy and cute :)) can do it, makes me feel empowered and challenged to keep up, at least a little. I currently have a little stack of their recipes printed out, waiting to be tried.
This week, my mom came to visit and something different than the past few years when I worked from home and then didn't work at all is that this time I was going to have to take off every morning and instead of us driving to our favorite
coffee shop
, she'd be on her own for breakfast. I didn't want her to have to depend on our standard staples (Luna Bars, almonds, and chocolate soy milk) and she loves all thing bread, so I decided to give her something unexpected. I bought a nice loaf of bread (I didn't have quite enough time to commit to that one) and decided to make MIL's
Apple Butter
.
I have a spot near and dear to my heart where my apple butter memories live. JJ and I went back for his Grandpa's funeral in
Ohio
and spent a week cleaning and doing what you need to do at the end of an era for a family home. We all met there each morning and had breakfast in the kitchen. It was the first time I'd ever tasted apple butter and I couldn't wait each morning to toast my english muffin and cover it in apple butter (I might have used some real butter on there too). I also had it for more than one afternoon snack during my time there. I remember sitting at the kitchen of a grandma I didn't even know and feeling as comfortable as if I was at my own grandma's home as I looked at her kitschy decor and nibbled my buttery muffin.
I was looking forward to chefing up this treat. I was going make a smaller batch and I didn't have all the spices so I knew that I'd be doing a little winging it. I used three apples that we already had (Fuji) and added Cardamom to the spice list and there was some Chinese All Spice in the spice cupboard (where did THAT come from?) so I threw some of that in too.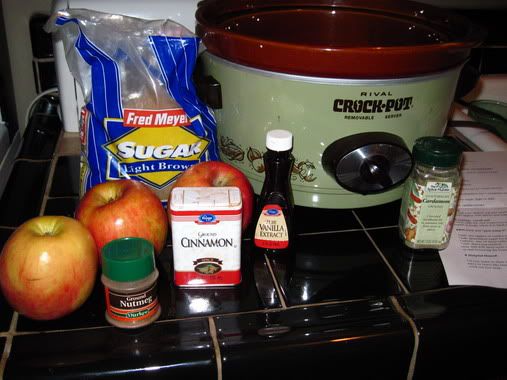 I used 60% of the apple quantity in the recipe and about 80% of the spice quantity, so I knew it would be a spicy batch. It was already yummy looking as I put the lid on the Crockpot. I chose to cook it on low overnight and I woke up a couple times during the night and as I walked downstairs, I was greeted with a wonderful aroma and I'd go lift the lid and give it a stir.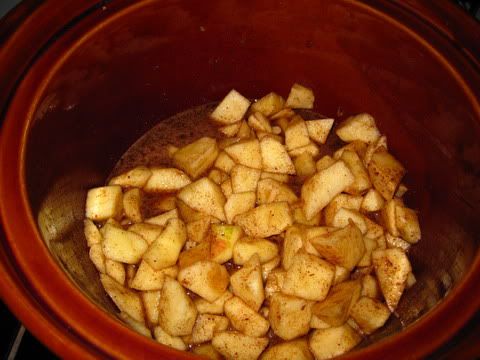 In the morning I smashed it all together with a potato smasher and put it in the fridge. I tried some that night on an english muffin (yum) and then had a brilliant realization. It was like squished apple pie. So instead of it's next taste being as a breakfasty treat, I heated some up and poured it over ice cream. OMG. It was amazing.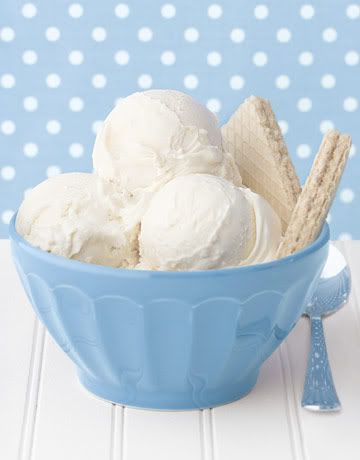 *Not my ice cream picture, but the pics I took of the apple butter over ice cream don't do justice to it's spicy, creamy deliciousness.
♥PLATE IT, ATE IT, GRADED IT.♥
scale: 0 (not at all) to 5 (very)

Cupboard to table time: 11 hours

Difficulty: 1
Deliciousness: 5
Impressed Husband factor: 5 "Shannon, that apple butter is really delicious" (you know he's serious when he starts the sentence with my name!)

Impressed Mom factor: 5 "This is really, really good. I'm going to have to get the recipe from you"

Leftover-friendly: 5