Today's Fashion Friday is going to show outfits from a whirlwind weekend with Mom. We packed a lot into a short time and still managed to be cute! We are very good at shopping together and it only makes sense that when you spend all that time with clothes, that you look good! Here we are waiting (and waiting and waiting) for the bus on Friday to go meet John for happy hour after a day of shopping. I really like the burgundy shirt with all turquoise accessories. I was pleasantly surprised to do this look that I typically wear with black with a color instead. (I don't know why my belt buckle is always off center, sheesh.)
Steph is turquoise too, it's kind of our thing.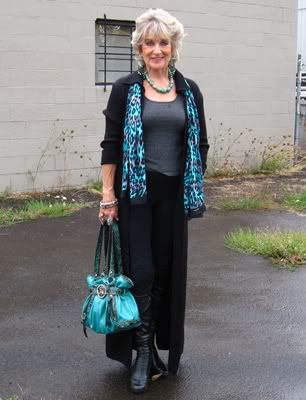 I don't really have Saturday outfit pictures, but pretty well documented the day so you can tell I wore orange (to match my beer, remember?) and Steph wore purple. John wore black and looked awesome strolling up in a snazzy jacket. Sunday was a casual day and we went to Bridgeport for lunch and the
Waffle Window
(oh dear, you MUST!) for dessert. John models the casual Carhart and flip flop look and Steph rocks sparkle jeans with a cute belt and a turquoise sweater.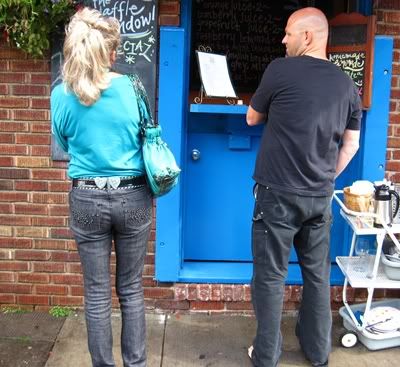 I wore my new favorite jeans and a brown sweater with awesome brown wedges and a pair of earrings that I've been looking for forever. You can only see a peek of it here, but I also had my turquoise purse for a pop of color. The kitty lives on our street and was super friendly that day.
On Monday, back to work. I love this dress because I can wake up and throw it on and it's as comfy as sweats but I get a ton of compliments on it. and it matches my hair, which is a bonus.
I met up with Steph towards the end of the day. She's usually pretty easy to spot.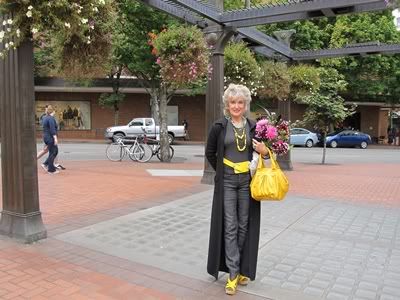 and then across the bridge to dance class wearing my standard short shorts, legwarmers, and team
Vega
sweatshirt.